Shopping Basket
Your Basket is Empty
There was an error with PayPal
Click here to try again
Thank you for your business!
You should receive an order confirmation from Paypal shortly.
Exit Shopping Basket
HELP FOR THOSE WHO CARE FOR DISABLED DOGS
Contact Capable Canines: (775) 721-0484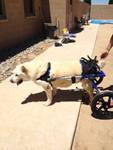 June was a red letter month for Snowball the 120 lb.+ rescue dog at the shelter. He arrived scooting and dragging his hind quarters, unable to weight bear on his hind end. Buddy Too donated his first cart to Snowball and a team of animal lovers went to work to fit the cart to Snowball. He was able to walk around under his own power for the first time since he was brought to the shelter. We measured Snowball for his own cart and thanks to a generous group of donors, Snowball will be in his very own cart soon.  
The importance of the cart is multifaceted:  In addition to the most obvious benefit of mobility for the pure enjoyment a dog gets in being able to move around, Snowball will now get the exercise he needs to lose weight and hopefully, will be able to regain some of the muscle strength in his hip area.  Just like humans who walk and exercise, Snowball will benefit from the cardio work out too.  The cart appears to be taking away any pain caused by attempting to walk without it.  The cart also allows Snowball the advantage of standing up to empty his bladder and subsequently not lying in or dragging through his eliminations.  Urine is so toxic that when held against the skin by the wet fur, it will actually cause burns.  An additional benefit  of being up in the cart, is Snowball's skin is not breaking down where he formerly drug his hind end.
Who knows, if Snowball can lose some weight and gain back some strength in his hips, he way walk independently again.  
Snowball is looking for a loving forever family and he comes with his very own cart.  
Categories: Cart and Mobility News, General Information
/