Shopping Basket
Your Basket is Empty
There was an error with PayPal
Click here to try again
Thank you for your business!
You should receive an order confirmation from Paypal shortly.
Exit Shopping Basket
HELP FOR THOSE WHO CARE FOR DISABLED DOGS
Contact Capable Canines: (775) 721-0484
     It is with a heavy heart that we report that our dog, son, best friend, mentor and the inspiration behind the formation of Capable Canines, Buddy 2, passed over the Rainbow Bridge recently.  He did not suffer and had led a happy, fullfilling life, giving back to so very many.  Sometimes the hardest thing in life to do is to do the right thing.  That means letting our loved ones go peacefully and with dignity, even though every inch of our being longs to keep them with us.
     Buddy 2 will live on, however. We plan on continuing the work he inspired, both through this website and through our continuing affiliation with the rescue group, Canine Rehabilitation Center and Sanctuary.  Web site:  www.crcsgiveslife.org.

     Please consider adopting a handicapped dog, and if you already have one, or know someone who does, please know that there is help and knowledge available through our webiste.  Dogs with disabilites, incontinence or just the things that inevitably go along with aging all present issues that can be stressful and baffling - we will do our best to help you to navigate those in a manner that benefits both you and your dog.
     God Bless You and God Bless the Dogs - the most noble creatures in the universe.

We have some mixed blessings to report for Snowball.  Unfortunately he has been diagnosed with lung cancer and  cancer may have  been the cause of his neurologic problems with his hind end too. The vet feels that the most humane thing to do is to put Snowball to sleep.
  Turning to the good in this sad news:  Snowball got the best possible treatment during his last few months.  He was surrounded by people who loved him and cared for him,  he was able to get up and move around a bit, and he was even losing a little weight. 
Snowball brought some amazing humans together who otherwise might not have crossed paths.  His legacy will live on in the work we all do to give all dogs a great quality of life and find the loving forever homes they deserve. 
Next time you see some big billowy white clouds in the sky, imagine Snowball running and playing to his hearts content.  Snowball, you made paw prints on our hearts and your life mattered.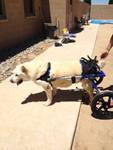 June was a red letter month for Snowball the 120 lb.+ rescue dog at the shelter. He arrived scooting and dragging his hind quarters, unable to weight bear on his hind end. Buddy Too donated his first cart to Snowball and a team of animal lovers went to work to fit the cart to Snowball. He was able to walk around under his own power for the first time since he was brought to the shelter. We measured Snowball for his own cart and thanks to a generous group of donors, Snowball will be in his very own cart soon.  
The importance of the cart is multifaceted:  In addition to the most obvious benefit of mobility for the pure enjoyment a dog gets in being able to move around, Snowball will now get the exercise he needs to lose weight and hopefully, will be able to regain some of the muscle strength in his hip area.  Just like humans who walk and exercise, Snowball will benefit from the cardio work out too.  The cart appears to be taking away any pain caused by attempting to walk without it.  The cart also allows Snowball the advantage of standing up to empty his bladder and subsequently not lying in or dragging through his eliminations.  Urine is so toxic that when held against the skin by the wet fur, it will actually cause burns.  An additional benefit  of being up in the cart, is Snowball's skin is not breaking down where he formerly drug his hind end.
Who knows, if Snowball can lose some weight and gain back some strength in his hips, he way walk independently again.  
Snowball is looking for a loving forever family and he comes with his very own cart.  
Hello everyone!
We  are very excited to finally have our first "how-to" video actually posted.  This is a VERY basic video on the technique used to express a male dog's bladder.  We hope to cover many different angles, situations, temperaments,  and, of course, both male and female dogs in the very near future.   Your comments are very welcome,  as we could really use some feedback and pointers at this stage of our venture, so that we get off on the right track right from the beginning.  Thanks for watching and please do stay tuned for other videos coming soon,  including  many more videos on bladder & bowel expression techniques, diet and scheduling , cart/mobility issues  and leg wound care.      
We  were painfully reminded just recently of how important it is to completely express your dog's bladder.    Our  dog  contracted a nasty bladder infection and it was all because I simply became impatient and did not take the time to insure that his bladder was completely empty.  
If  the bladder does not empty completely,  it can become a veritable petri dish for the breeding of bacteria and a bladder infection can be the result.   Don't  panic-  it is easily cured with a short course of antibiotics,  but the point is to prevent it in the first place.  This is simply another instance as well where it pays to have a good working relationship with your vet.  They should be an integral part of your team - keep them informed of all of the happenings with your dog and be sure to include them in any decisions to be made regarding your dog's health, like prescribing antibiotics for bladder infections. Our  new upcoming videos on bladder expression emphasize these points as well.  It  is  helpful to remember that your dog is completely trusting you when you express his or her bladder, so take your time and treat your dog with respect and love.  That includes patience..  Believe me,  I know how difficult it can be when you are in a hurry on your way to work or some such other event,  but it really does not take any more time in reality to do it right.
Over time,  you will actually develop a feel for when the bladder has emptied completely-  it is not difficult and that way you can always have the peace of mind that you are giving your dog the best care.  
/